Hey girls,
I love to paint my nails , i love colors that are vibrant and funky. Thats why i bought this Aqua nail color in number 775. I bought this Aqua Nail color just for Rs. 75 Pkr from a cosmetic shop located at Millenium Mall , Karachi . I was surprised that this brand has some different and dare to wear colors in their nail color range. Like Citrus Orange and Mango Yellow, and Blood Red were also available , i would like to try more colors in a couple of days. I like its packaging, its comes in a cute 15 ml bottle which is diamond shaped.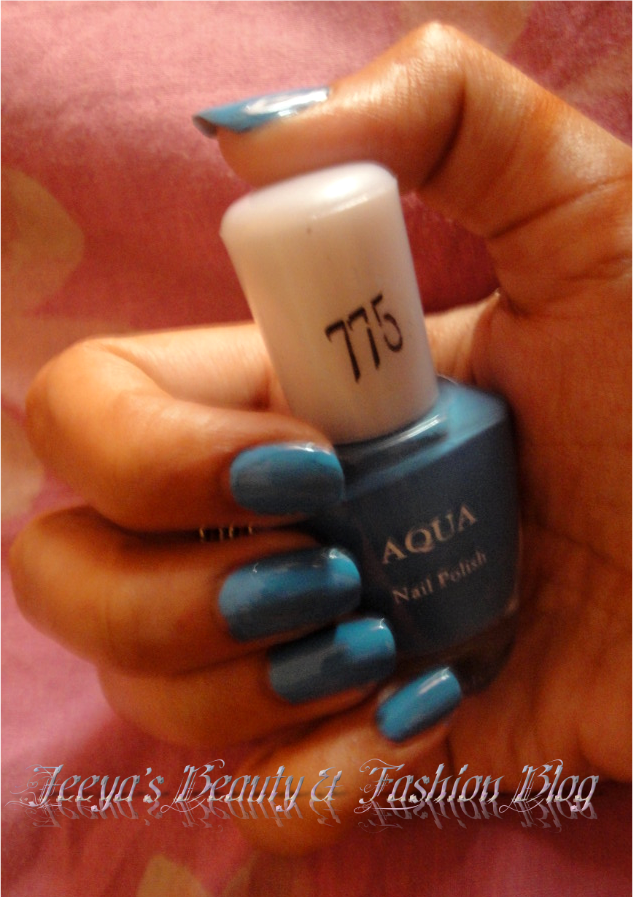 It is a gorgeous Blue ferozi color , which looks superb and classy on my nails. I applied just one coat of this nail color and surprisingly its consistency is just amazing . It goes opaque in just one coat without streaks or any other flaws.The applicator is also good. I did not apply any top coat but it looks super shiny on my nails :)
I am really glad that i bought this . This nail color is very vibrant and looks great during summers. The only flaw that i noticed in this nail color is that it is not long lasting and easily chips off after two days.
I would recommend you to apply a base coat first as dark color leaves stains on the nails .
Have any one tried this nail color brand ? What do you think of this review ? Share your views and experiences with me :)
signing off,
Jeeya