Hey girls ,
If you are addicted to hair straighteners and other hair styling products that can cause damage to your hairs and you are looking for one product that not only protects your hairs from heat damage but also adds shine and smoothness to your hairs. This little magical product is called Salonchic shine serum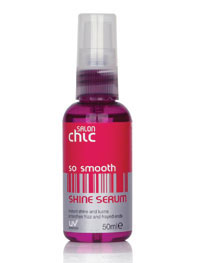 image taken from website


What are salon chic products :
Customers are demanding the latest salon trends in smooth, frizz free hair. They want a product that offers protection from heat styling damage and UV rays, whilst providing added shine and manageability. salon chic so smooth offers the benefits of salon brands but at affordable prices.
The range offers a superb straightening balm, mist and shine serum, giving you smooth, shiny hair without the frizz, even in harsh weather!
Product Information :
salon chic so smooth shine serum is perfect for smoothing away frizz and helping to prevent split ends. Contains protection agents to shield against heat styling damage giving instant shine and lustre to all hair types.
How to use :
Take a small pea size amount on your palm , apply it on your damp or dry hair , concentrate more on ends , and style as desired. Do not apply too much otherwise you will get oily look.
My thoughts :
I am an avid user of hair styling products, i found this shine serum very useful in maintaining hair shine and smoothness , even after straigtening or curling my hairs with hot irons. Just a small pea size amount is good enough to provide shine to your hairs. I use it before straightening my hairs , and the results are just amazing . it does not help in straightening your hairs . but helps them to look smooth and silky and frizz-free.
I bought mine from Chase departmental store, karachi for Rs. 260 Pkr. Such an affordable yet great product.
Recommendation :
Yes, i would recommend it to those who wants to protect their hairs for heat damage and maintains their shine and beauty.
have you ever tried this product ? Like my review ? kindly leave a comment below !!
Yours truly,
Jeeya